OWNER, JOHN EASTMAN
Eastman's Fitness in Leominster, MA is owned and operated by John Eastman. John is a lifetime drug-free athlete, and was a long-time member and employee of of the previous facility prior to owning the gym. As a lifetime athlete, trainer and nutrition expert, John brings a personal expertise and caring to Eastman's Fitness that is rarely found in modern fitness facilities. Eastman's offers a unique combination of friendly, personal care and fitness training.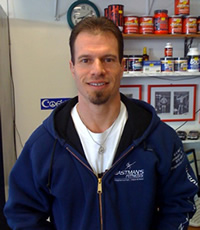 Frequently Asked Questions
IS Eastman's THE RIGHT GYM FOR MY LEVEL?
Eastman's Fitness is a faciltiy for ALL LEVELS from beginner to expert. Every person who comes to Eastman's meets with John personally to discuss the right training level to reach his or her personal goals.
IS Eastman's JUST FOR WEIGHT LIFTERS?
While Eastman's does have a number of dedicated and accomplished body-builders who train there, we are a full-service trainging facility offering cardio machines, a full range of dumbells and barbells and variety of nutritional supplements.
DO I HAVE TO SIGN A CONTRACT TO USE JOIN Eastman's?
No. Eastman's offers a simple and flexible plan to satisfy almost any personal schedule. We offer 1-day through 1 year plans with no contracts. See more in our Membership Area.
WILL Eastman's HELP ME REACH MY FITNESS GOALS?
Yes. With dedication on your part and a consistent training and dietary plan, Eastman's Fitness will help you reach and maintain your optimum fitness level. We feel that the neighborhood atmosphere and personal attention to our members makes Eastman's an ideal place to train. You are not just a number to us.